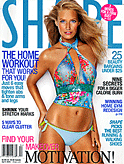 Shape magazine has what they call a boredom busting workout that is supposed to break you out of your physical fitness rut.
After looking over the program, it looks like a fairly easy plan to follow. You will need dumbells in a variety of weights, a weight bench and a stability ball. The cardiovascular training can be done on any cardio machine. In all, this program is best used at a gym where you have easy access to all the equipment and the variety of different cardio machines.
As far as navigation goes, Shape's web designers could have done a better job. Make sure you read the side bar on the first page about RPE (Rate of Perceived Exertion). It isn't discussed on the first page, but is used heavily in the cardio section. Additionally, you could use a Heart Rate Monitor instead of RPE.
The article is several pages, but there isn't navigation at the bottom, just names of "Related Stories." Those related stories are the actual workouts that you are supposed to follow and a nice little inspirational piece about "sticking with it."
On the whole, it looks like a really good workout if you can get past the clumsy user interface. I guess they want you to buy their magazine instead of getting all your information for free on the Internet. Imagine that…
Previous: Adidas 1
Next: How to Order From the Kid/Senior Menus

Leave a Reply
-