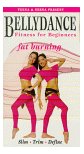 This list is from Amazon.com, so you know they are just trying to sell you a bunch of stuff:
Amazon.com Listmania! – Fun Exercise – by Gina
Be that as it may, I really enjoyed looking at this list. There are tons of ideas for different kinds of exercise. Remember that your local library probably has some of these books and video titles available for you to borrow and try out (and if they don't, Netflix definitely does).
Previous: When the Scale Says You've Gained
Next: Vitamin See

Leave a Reply
-