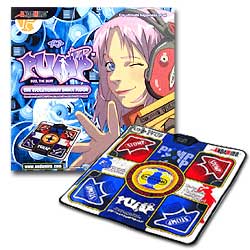 I just found out that there are two PC versions of the arcade game, Pump It Up. They are available through Red Octane's website, but I haven't been able to find them anywhere else.
Anyone who has read this site knows that I'm obsessed with Dance Dance Revolution. This game variation from Andamiro Entertainment uses the corners and the middle as steps instead of the traditional up-down-left-right. I've seen this game at the arcades, but I'm so used to playing DDR that I was reluctant to plunk down a buck just to try it out. I was scared my feet wouldn't work.
I'm going to get this for myself as a weight loss reward. It helps to set goals, meet them and have really cool things to reward myself with. I'm so excited!
Previous: Xbox Live DDR-U2 Workout
Next: Seven Fishy Diet Claims

6 Responses to "Pump It Up for the PC"
Leave a Reply
-