With all the celebrity diets that have been splashed across the magazine covers lately, there is one that has gone completely unnoticed. Margaret Cho, a comedienne and activist, wrote a blog entry about her dramatic weight loss over the last year or so.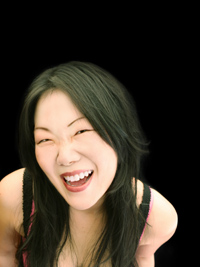 The "F**K It" Diet by Margaret Cho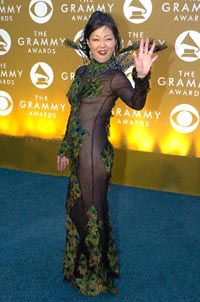 With all the gawking and hee-hawing about Jessica Simpson's nearly naked form for the Dukes of Hazzard movie, I'm surprised that no one has noticed how absolutely fabulous Margaret is looking. The only comments she ever gets about her appearance are the jeers for the totally cool peacock feather dress she wore at the Grammys last year. The press didn't even notice how thin and perfect she has become.
Her story is far more compelling to me than Jessica's. Maybe it's because I relate to her much more than some skinny blond who suddenly got skinnier for a movie role. She talks honestly about her fight with food and her abandonment of dieting.
The last line of her blog entry, "So there you go. Big secret diet. Love. Love and the audacity to actually waste food," has been the most healing for me. To be willing to order Prime Rib because I want it and throw out nine of the twelve ounces is such a big step for me. I am now able to pay $2.50 for one of those Chantico drinking chocolates from Starbucks and only drink an inch off the top and throw the rest away.
In my mind, it was never about the money. It was always about the waste. "It took a lot of people time to grow, ship and cook this food and if I don't eat it all, I've wasted it." That concept was so powerful for so long that I struggled with weight loss until I was able to discard it.
Before I was able to break free of that idea, I was only happy at a restaurant if I shared an entree with someone else. If I ordered an entire entree for myself and only ate part of it, I was unhappy because I "wasted" it. If I ordered an entire entree for myself and ate it all, I was unhappy because it would literally make me sick. If I ordered an entire entree for myself and took the rest home, I was unhappy because I had some yucky thing sitting in my fridge for days that I didn't want to eat and constantly chided me, "Wasteful…" whenever I opened the refrigerator door.There was no way for me to win if I didn't share my food with someone else and it's so rare to find someone who wants what you want at the same time.
Now, I can happily order whatever I want. If I want an appetizer, I get it and eat one or two. If I want an incredibly fattening dish, I order and eat only enough to feel satiated. If I want a dessert, I order it and eat a bite or two. It's ok to throw it away.
It's actually better for the economy if I order what I want and discard what I can't eat. The restaurant gets paid for all that food. The waiter gets tipped a percentage of all that food. All of that money goes to the people who grew and prepared the food. I can't send my leftover Prime Rib to the countries that are starving. All I can do is make sure that I don't let it go to "waist."
Previous: More on Trans-Fatty Acids
Next: The Science Behind the Popular Diets

27 Responses to "Margaret Cho's "F**K It" Diet"
Leave a Reply
-