"The fastest-growing exercise trend in the US revolves around sinister-looking black cannonballs with handles, known to the hardcore fitness enthusiasts who swear by them as kettlebells. With recent media attention that has ranged from The Today Show, Time and Newsweek to Rolling Stone the kettlebell surge into the mainstream culminates this March with the first ever National Kettlebell Convention in Las Vegas." – Dragon Door
"The fastest-growing exercise trend" That phrase seems forced to me. I have memberships to two gyms and I've never seen a kettlebell. Where is this trend growing? After looking at pages and pages of information on the Internet, it seems that much of the hype comes from the website mentioned above: Dragon Door.
The sites that don't lead back to Dragon Door seem to tout their story: These "revolutionary" exercise tools originated in Russia. They are good for martial arts training. Their shape helps develop your core muscles. None of the websites offer clinical studies to back up their claims. The hype screams so loudly that I just want to cover my ears.
There also seems to be a huge backlash. I found people discussing in forums about why they hate kettlebells (What is wrong with kettlebells?). I found an article that attempted to dispel many of the myths surrounding kettlebells (Kettlebells : An Antidote to the Hype). All of this for an item I hadn't heard about before I saw the word in passing a few days ago.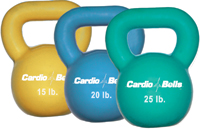 What do I think? I think body builders get bored. A new type of weight that is shaped differently than what they are used to is exciting to them. If it keeps them interested in their fitness routine, more power to them. I'm not bored yet, so I'll stick with my vinyl-covered dumbbells. If I ever do get bored, though, I think these ones are pretty…
Previous: Denny's Beer Barrel Pub Challenge
Next: Xbox Live DDR-U2 Workout

4 Responses to "Kettlebells"
Leave a Reply
-