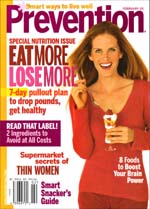 Prevention Magazine has an article outlining the most down-to-earth diet plan I've seen in a long time. This is the kind of plan that you can follow for the rest of your life. It can be tailored to help you lose weight. It is based on the 2005 Federal Dietary Guidelines for Americans.
For the full plan and all its details, see the article: Eat More, Lose More. Here are the basics:
Eat Fruits and Vegetables Every Few Hours
Eat More Fiber-Rich Whole Grains
Eat Two Servings of Protein A Day
Eat Sweets With or After Meals
Keep Salt in Balance
Eat Small-Size Fish Twice a Week
Eat Mixed Nuts Daily
Eat the Right Fats
Go for Dairy Daily
Quench Your Thirst
Each of these steps is covered in full detail on their website.
If you are looking for a healthy diet plan to follow, this program (coupled with portion control and daily exercise) is what you're looking for. For all those people who wanted the inside scoop on Weight Watcher's program, here is one to follow that is available to you without charge.
Previous: Xbox Live Workout
Next: Fat Burning and Negative Calorie Foods

One Response to "Eat More, Lose More"
Yvonne Says:
March 25th, 2006 at 6:44 pm

Thank you for sending me the healthy diet plan.
Leave a Reply
-