I just found a website devoted to exercise gaming called DDR4Health. I read it all day today and because of it, I added quite a few things to my Amazon wish list. Most of them are too expensive for me to contemplate purchasing right now. They're just there to remind me of all the cool things that are out there. Here's a quick overview of the things that are just setting my mind afire right now.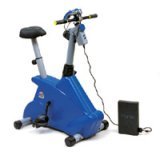 GameBike
Think of it as a huge controller for your console system. It works with PlayStation and they sell an adapter for use on Game Cube or Xbox. Pedaling the bike causes the game to accelerate. According to the documentation, it doesn't make a difference if you pedal quickly or slowly, you just need to pedal to make it work. I think this would be a great controller to use with Project Gotham Racing. So what if you are pedaling and steering a bike instead of driving a car? It would make all that game time productive.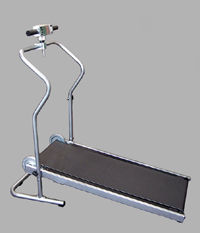 FP Game Runner
This thing looks like a cheap treadmill connected to a controller. It connects to your computer for first person games with a USB connector. It doesn't work with any of the current gaming systems (computer only). When I saw it, I thought to myself, "Hmm… I could take apart a normal controller and solder the connections to a cheap treadmill from the thrift store." I wouldn't recommend this item because it is so expensive. For that kind of money, you could get a heavy duty treadmill from Nordictrack that goes up to 30% incline at 10 mph.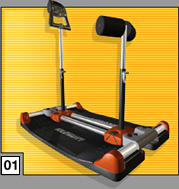 KiloWatt
It's another huge monster controller for your console system. It is compatible with Xbox and PlayStation. This is a strength training machine. It is meant to build upper body strength, but the FAQ state that you will notice improvement in your quads as well. Apparently, it's a huge machine that you manipulate instead of pushing buttons. I wasn't interested in this one as much because it's so colossal.
The Journey to Wild Divine
This is not an active game. It's a biofeedback tool to help you meditate. I thought it was really interesting since getting me to calm down is nearly impossible. I keep thinking that I'll learn to relax someday. When I saw this, I thought, "Maybe then I could relax." I keep trying to buy relaxation instead of realizing that the best thing I could do is just complete some projects and write some chapters. This program looked cool, though.
Even though all of these things look like they aren't quite ready for prime time, what sets my mind afire is the idea that they are the start of a wave of exercise gaming options. I can imagine a future where every house has a gaming machine that attaches to their game console. It works cardio and strength training and makes the games exciting and challenging on an entirely different level. Of course, I could always just go outside and play like my grandma always used to say…
Previous: Yourself! Fitness for the Xbox
Next: My Weight Loss Story So Far…

Leave a Reply
-