I was looking through my old screenshots and I found this from a magazine: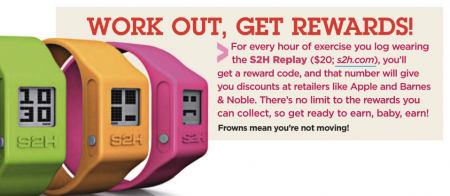 It is a review for S2H Replay, a wristband device that I actually bought because of this ad. I wore it for a while, hated it and stuffed it into a box. I actually saw it the other day when I was cleaning out a box and tossed it aside in disgust. I never earned even one "reward," and that stupid little bracelet didn't seem very accurate.
I was curious if S2H is still around, but when I went to their website, this is what I found: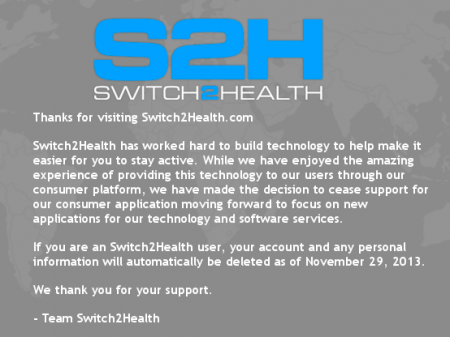 So, if you did like them, it didn't matter because they were deleting all your information. It seems that they were closing up shop so they could offer their services to corporations.
After only a month with my Fitbit, I absolutely adore it and would be devastated if they closed up shop. Where did S2H go wrong and Fitbit go right?
GOOD website: The Fitbit syncs seamlessly with my iPhone and my computer making everything easy to read.
No false promises: Fitbit never promised to give me rewards for completing my daily steps, so I don't feel ripped off when all I earn is a 20% off a product I don't want.
Fashion sense: I can change my band on my Fitbit to match my outfit. I know that shouldn't be a big deal, but for me, it was.
Compatibility: My Fitbit works with Lose It! and My Fitness Pal, so any activity I do, automatically syncs over to my food program. This was the deciding factor for me when I chose the Fitbit.
Honestly, I liked the little smiley face and frowny face on the S2H. Considering how little the LEDs on the Fitbit tell me, I liked them better. In the end, S2H was SO close. A little band around my wrist that keeps track of activity for me is a brilliant idea and they were doing it way before any of the other companies.
Previous: Sound Mind Sound Body
Next: A Travel Exercise: Burpee Sandbag Row

One Response to "S2H Replay: What Went Wrong"
Dina Says:
February 5th, 2014 at 8:37 pm

That's interesting. It's nice when the best/most innate to use product is the most popular. That's usually how it goes with techie products, but not always.

I use the Nike + tab on my iPod, but they seem to have disabled the updating. I'm assuming if I buy a wristband I'll be able to continue to log my running times/distance (it still tells me on the unit itself) but I don't feel like buying another item, to be honest.

I know a lot of folks love Striiv. because it turns walking into a game. At the time I heard about it, it looked a lot like a niche product that would get pushed to the side in the fitness market, so I never picked one up. They seem to have extended into the activity tracker market, so maybe they're here to stay, who knows?
Leave a Reply
-