If your morning bacon and eggs has gotten a little too routine, here is a way to mix it up. I made myself a chocolate and cream cheese omelet on Sunday and it was divine!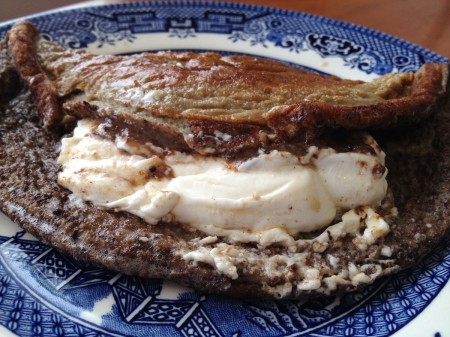 Ingredients:
1 TBSP butter
2 eggs
1 TBSP heavy whipping cream
1 tsp unsweetened cocoa
2 packets of stevia
1 oz. cream cheese
Directions
Put the butter in your skillet and set the flame on medium.
While the skillet is warming up, mix the eggs, cream, cocoa and 1 packet of stevia in a bowl. The cocoa won't fully mix in (there will be tiny chunks of it), but that doesn't affect the taste.
Once the butter is fully melted and bubbling, pour the egg mixture into the pan and put on a lid for approximately three minutes.
Mix the cream cheese with the other packet of stevia (you can use the same bowl that you mixed your eggs in).
Flatten the cream cheese mixture until it is approximately the size of half your omelet.
Place the cream cheese on the egg mixture and gently fold in half.
Cook for two minutes more or until the cream cheese is melted.
Allow to cool slightly before serving (no one wants molten cream cheese lava burning their tongues in the morning).
Nutrition Facts:
Calories 396.6
Total Fat 37.2g
Total Carb 3.6g
Fiber 0.6g
Protein 15.3g
The next time you're feeling chocolate deprived, remember that you can create low carb chocolately food on your own without sacrificing your health.
Update 02-12-13
I've found that Sweet N Low tastes better than Splenda in this recipe. Additionally, using coconut oil instead of butter makes it taste especially yummy and only adds twenty calories. I talked about it here:
Previous: Parmesan Avocado
Next: Running Inspiration from I've Got Miles To Bike

2 Responses to "Low Carb Decadence: Chocolate & Cream Cheese Omelet"
lynda nelson Says:
November 2nd, 2013 at 3:37 pm

This was not chocolaty enough for me. Just tasted like an omlette with cream cheese in it.

argylepancake Says:
December 27th, 2013 at 11:53 am

To get the cocoa smooth I warmed the cream for about 20 seconds then mixed the cocoa with it until mostly dissolved. Then I added the eggs to that.
Leave a Reply
-