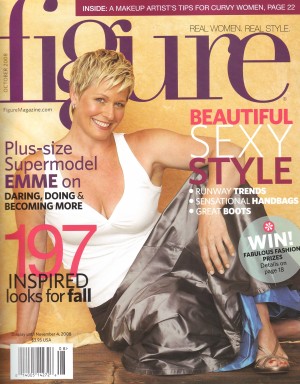 I heard the rumor on a comment from Christine on my entry about Figure Magazine:
I realize this post is ancient but I am crying. I just got notice today that Figure is being replaced by Ladies Home Journal of all magazines! NOOOOOOoooooo. If I wanted a saccharin magazine I'd buy one. I am SOOOOO bummed!!!! I overlooked the annoying fluff and was so inspired by the women and clothing. I have been anxiously awaiting my next issue and then instead I get this.
Was it true? Was Figure Magazine dead and gone? I checked the Figure Magazine website and this letter to the readers was there:
Dear Figure magazine readers,

Thank you for your extraordinary passion and support throughtout our years of publishing Figure magazine. We are saddened to announce that as of our March/April 2009 issue, we will be ceasing publication of the magazine and shutting down the website.

This was a painful decision to make. We have shared your vision to create an empowering, inclusive place for women of all shapes to come and celebrate fashion and themselves. However, we are facing unprecedented economic times and unfortunately are unable to continue publishing.

If you are a magazine subscriber, we will be contacting you regarding your remaining issues.

You all have made Figure an exciting and dynamic community. It has truly been a joy to serve the needs of today's fashion-conscious woman through the magazine and website, and we look forward to continuing to serve you in our stores and online at www.lanebryant.com, www.fashionbug.com, and www.catherines.com. We hope to see you there.

Sincerely,
The Publishers of Figure Magazine
Christine is right. Ladies Home Journal is no replacement for Figure Magazine and the best we can do in this situation is to find a replacement online. One good one is a blog I've found recently:
Posting there has slowed recently, but you can read their archives for some fun things and motivation to be fabulous no matter what size you are.
If you have a fashion fix, here is a GREAT list of online shops that cater to all sizes:
It seems like the magazine industry is blaming their demise on the economy instead of themselves for not adapting to the web world. Don't let the death of Figure magazine be a blow to accepting yourself the way you are. It's the first step toward a healthier life.
Previous: Twitter Updates for 2009-07-10
Next: Anybody Can Have A Better Figure!

One Response to "Figure Magazine Defunct"
Roxanne Says:
July 13th, 2009 at 7:46 am

The replacement of Figure with LHJ doesn't seem right, I agree. If you ordered it through an agency, they can cancel the remaining issues and you can order something else that you prefer. If you ordered directly with Figure, you should be able to contact LHJ to cancel and request a refund for the remainder of your subscription.
Leave a Reply
-