This postcard from PostSecret says EVERYTHING about someone who says they love you one minute and tells you you're fat the next: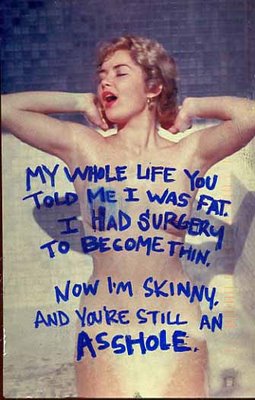 It reads:
My whole life, you told me I was fat. I had surgery to become thin.

Now I'm skinny. And you're still an asshole.
This exact same thing happened to me (except the surgery part, I lost the weight on my own). The first time I tried Weight Watchers, I lost almost 75 pounds. I wasn't to goal yet, but I looked world's better than before.
I've made no secret that my grandparents starved me every summer in Billings. On one particularly dark night, I was feeling down. I felt like my grandpa never was proud of me. Mike told me that it wasn't true and told me to call him and talk to him.
In tears, I called him and asked, "Are you proud of me? Are you proud of anything I've done?"
He answered, "Well, you really need to get your weight under control."
No mention of the college degree. No mention of the prestigious job. No mention of the recent weight loss.
He died last year and right up to the end he was that kind of person. My mistake was ever trying to please him in the first place. Don't get me wrong. That doesn't mean I don't love him. Whenever I tried to get any positive reinforcement from him, however, I always came away feeling worse than before.
In the end, I need to eat healthy and exercise for ME. Not for anyone else.
---
PostSecret's beneficiary is the National Hopeline Network. It is a 24-hour hotline (1 (800) SUICIDE) for anyone who is thinking about suicide or knows someone who is considering it.
Previous: The Facts About Sleep and Obesity
Next: Get Your Butt On The Elliptical Trainer

5 Responses to "PostSecret: You're Still An Asshole"
Leave a Reply
-