NakedJen has decided to start a new exercise program and get back to eating healthy. She blames it all on suffering from Divorce Brain, but it sounds like a good start to me:
On the first day of new regime, her dogs, Buddha and Stella, were unsure of what was going on, but by day three, they were excited to join her:
So, if you're still reading, you might be interested to know, that I'm on day 3 of this insanity. This morning I didn't even need the alarm at 5:00 a.m. because Buddha and Stella woke me up at 4:50 a.m. Stella jumped on my head. Buddha gave me kisses. It was still hot as Hades. We still did our 12.6 miles. I'm still going to yoga later today.
Jen also gave us a recipe for her Vegan Pineapple Nectarine Coconut Morning Bread. It looks delicious!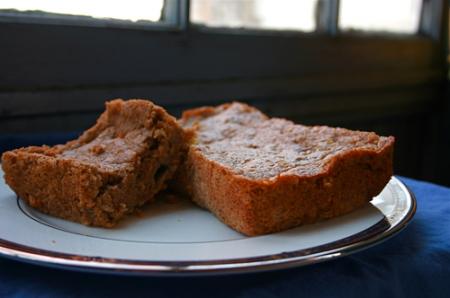 If you have been feeling a little stale with the heat and exercise, click on over to NakedJen's post and remember that even in the sweltering heat of the summer, you can live a healthy life.
Previous: Quote of the Month: July 2008
Next: PostSecret: Drivers License Weight

Leave a Reply
-