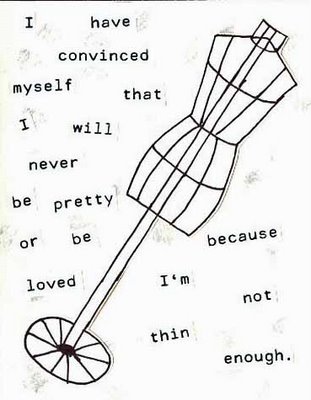 This postcard from PostSecret showed up a couple of weeks ago and it really hit home for me. It says:
I have convinced myself that I will never be pretty or be loved because I am not thin enough.
I have been willing to let myself be loved despite my physical appearance, but I am also convinced that I will never be pretty. I shrug and tell myself that being pretty isn't as important as being smart, witty or kind. Sure, beauty is just one aspect of a beautiful person, but it's a mighty important one, isn't it? People will judge me within a couple of seconds based on appearance alone.
---
PostSecret's beneficiary is the National Hopeline Network. It is a 24-hour hotline (1 (800) SUICIDE) for anyone who is thinking about suicide or knows someone who is considering it.
Previous: PostSecret: I Miss Being a Lardass
Next: Does Smoking Make You Thin?

5 Responses to "PostSecret: Not Thin Enough"
Leave a Reply
-