ABC News has a video on their site about LipoDissolve: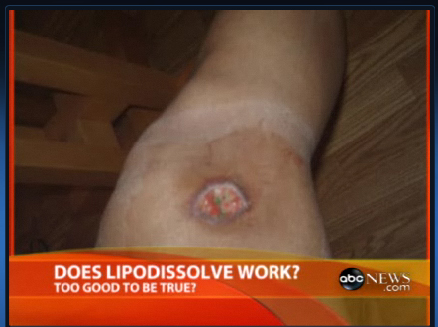 ABC News: Lipodissolve: Too Good to Be True?
Here are some of the quotes from the video:
Annette Clark didn't blink at the steep 2400 dollar bill for a series of multiple injections. "They gave me about six injections across my abdomen and by the time I got home, I looked like I was eight months pregnant." The swelling was one of the MILDER side effects. "My whole body, just covered in hives, itching bad. I became very hot… I wake up in an ambulance."

Gigi Hinton had a nearly perfect body simply hoped to trim her thighs and knees. After a second round of nearly twenty injections, her treatments turned nightmarish. "It really seemed like something started to eat away at the skin beneath."
Next time you see one of those billboards that promise you that you're fat will melt away with no effort, remember what Gigi's leg looked like and steer clear of them.
I've talked about LipoDissolve before here:
Previous: Equinox Fitness Brings a Healthy Dose of WTF?!
Next: The Electric Corset: 1883 Is Very Similar to 2008

10 Responses to "LipoDissolve Horror Stories"
Leave a Reply
-