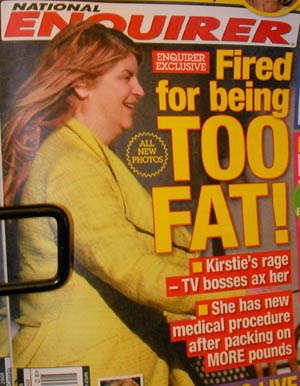 The photo on the cover of The National Enquirer was enough to cause confusion. After losing an incredible 75 pounds with Jenny Craig, the tabloid suggested that Kirstie Alley had gained it all back and lost her job because of it.
What if there was a different motive? According to People Magazine, Kirstie Alley is planning on launching her own weight loss plan.
"I had not intended to make this announcement at this time, but after an online People magazine article ran last Friday, announcing that I had stepped down as Jenny's spokesperson, I found myself bombarded with inquiries from the media and fans. So I guess it's as good of a time as any to announce that I intend to develop and pilot my own weight-loss brand that I hope to launch in 2009."
You can read Kirstie Alley's full statement here:
Paranoid as I am, my first instinct was that The National Enquirer had just found an old photo of Kirstie before her experience with Jenny Craig and were using it to sell their magazine. When paranoia really set in, however, I imagined that she really HAD gained back all the weight… purposely. After losing it "on her own" the second time, SHE would be able to cash in on the experience this time instead of Jenny Craig.
What do you think? Has my marketing paranoia run overboard? Is she just purposely gaining weight to "shock" you with another before and after picture? Worse still, did she gain the weight to discredit Jenny Craig?
Staying at a healthy weight is difficult enough without complicating it with negotiations, spokespeople and contracts. The tabloids are just trying to sell you papers, not make you healthy. Remember that in 2009 when they print Kirstie Alley's "amazing" weight loss the second time around.
Via: Kirstie Alley Plans Own Weight Loss Program | TV Crunch
Previous: What About Mom? Tells Us About Running 10Ks
Next: Advertisements For Medifast

7 Responses to "Kirstie Alley Creating Her Own Weight Loss Plan"
Leave a Reply
-