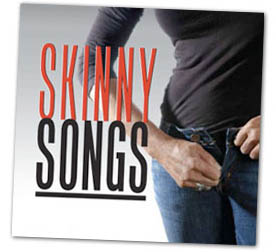 When I first heard of SkinnySongs, I thought it would be totally lame. Seriously, what was I supposed to think with lyrics like this?
skinny jeans, skinny jeans
you're stilll hanging 'round
In the back of my closet
and that's bringin' me down
this morning, I woke up,
and made me a vow
skinny jeans, gonna get back,
into you somehow
The more I listened to the sample songs, however, the more I liked SkinnySongs. I'm not much of a country music fan, but this stuff borders on the Shania Twain side of country, so I'm okay with it. The songs are well-produced and the singer is good. You can hear samples of all the songs here:
There are so many songs that I have collected over the years to give me inspiration, but none of them have anything to do with losing weight. It's actually quite shocking considering that so many of us are struggling with weight issues. I'm surprised that there really hasn't been a weight loss song before.
Harder, Better, Faster, Stronger by Daft Punk is a great song, but it really has nothing to do with losing weight.
So, I downloaded the album from iTunes and I'm going to be trying it out over the next few weeks. If you've listened to this album, leave your thoughts here.
Previous: Weight Watchers Points Calculator for your iPhone
Next: How To Get Rid of Man Boobs

3 Responses to "SkinnySongs: Inspirational Music For Your Workouts"
Who is SLB+ Says:
December 14th, 2007 at 4:44 pm

They seem to be missing the crucial "I'm too sexy" by Right Said Fred…a travesty!

Laura Moncur Says:
December 14th, 2007 at 6:21 pm

You're right, SLB+! That IS a perfect motivational song!

heidi Says:
December 14th, 2007 at 7:04 pm

If you like "I'm too Sexy" you might like "I'm a Hottie Now" — different genre but same message. I hope you like the music, I know it worked for me. (I'm biased, I wrote the lyrics!) The other one that surprised me is "Objects in the Mirror" — there are song to work out to, but this song is specifically to play in the car on the way to the gym so you'll actually go in when you get there. Anyway, let me know if they work for you.
Leave a Reply
-