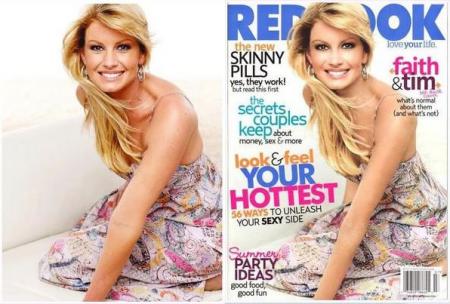 Apparently, Redbook doesn't think Faith Hill is beautiful enough for them and they needed to make her arms beyond skinny, her waist impossibly small (without a corset) and more. Not even the previous placement of her arm was good enough for Redbook.
This is the same magazine that screams, "Summer Party Ideas! Good Food! Good Fun!"
The next time you pick up a magazine and compare yourself to the woman on the cover, remember that it's not real. Even Faith Hill is probably comparing herself to that woman on the cover of Redbook and nitpicking herself.
Lots of people are talking about this:
If you are appalled by this, remember that ALL the magazines do this. Redbook just got caught. Don't pay one more penny for women's magazines. If you really want to read them, just read them in the grocery store and put them back. They don't deserve your money.
Previous: Bamz: LEDs For Your Running Shoes
Next: Don't Be A Jerk At The Gym

10 Responses to "Beautiful Faith Hill Not Good Enough For Redbook"
Leave a Reply
-