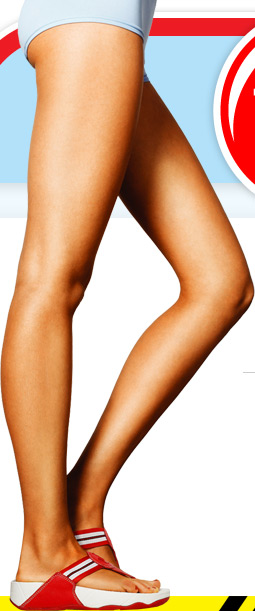 They claim to be able to tone your thighs, calves and glutes. How could a shoe do that?
Here is their explanation:
Every step you take in the FitFlop helps tone and trim your legs. The FitFlop's uniquely built multi-density midsole activates muscles midstep to help tone your thighs, your calves and your glutes. In fact, FitFlops are biomechanically engineered to absorb shock, lessen joint strain, and recreate the gait of barefoot walking – but with a powerful new built-in micro-wobbleboard workout-enhancing effect.
Since they are sold in Great Britain, they're not under the strict advertising laws of the FCC. I don't know what kind of false advertising laws Great Britain has, but I want to see proof before I'll buy them. I want to see tests from REAL universities. Nothing on their website gives me any inkling that these have been tested. Their FAQ just tells me how to buy them.
Plus, I have enough time balancing and tripping. I don't need a micro-wobbleboard under my feet at all times.
Via: Popgadget Personal Technology for Women: Fit Flops: gym in a sandal?
Previous: Why Is Hot Dog Eating A Sport?
Next: Don't Get Caught In The Cream-Filled Lies

9 Responses to "The Fit Flop: How About Just Flop?"
-