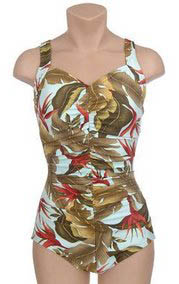 As an owner of a beloved black swimsuit, I thought I would disagree with Tish's article when I saw the title. Instead, I was rooting her on!
It's time to buy a swimming suit for the season. This time, don't hide behind black. Let yourself wear the suit you always wanted to wear, no matter what your current size. Life's too short to wait to buy your dream swimming suit. You don't have to be a size 0 to be beautiful. You're already beautiful right now.
Previous: How Many Calories Should I Eat a Day?
Next: PostSecret: I Wouldn't Bother

3 Responses to "No More Black Swimsuits!"
iportion Says:
May 18th, 2007 at 12:07 pm

I am not big on flower print swim suits. I like black swimsuts but I like lepord print tppp

Freya Says:
May 18th, 2007 at 3:17 pm

I agree! Life is too short, I am a nice curvy aussie size 16 (US 12) and i wear bikinis and I swim and go to the beach daily, if anyone has a problem with me wearing a bikini, then they shouldn't look at me 🙂

Neel Says:
May 20th, 2007 at 2:10 am

Absolutely…wear whatever you love though I think black has an edge….
Leave a Reply
-