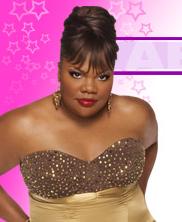 I hadn't heard of Fat Chance until I found this review from Rudd's Sound Bites. Mo'Nique is sponsoring a beauty pagent for fabulous and thick women. I think it's absolutely wonderful!
Stephanie believes that the show is not quite comfortable in its skin, but it has moments that are inspiring:
"There is one contestant, the African-American security guard Tiffany Jones, who does not don a wig to cover her short blond cut. MoNique says she couldn't allow Tiffany to cover up her own beauty, and Tiffany answers that she is thrilled not to have to hide her hair or tattoos to be beautiful."
If you missed the show, you can see clips from it on Oxygen Network's official website for the show:
For more information about Mo'Nique and her sassy attitude, see her official website:
Remember, loving yourself just the way you are is the first step toward living a healthy life. Shows like Fat Chance are a way to learn to love yourself and be able to commit to living a healthier and stronger life.
Previous: Walking Excuse Busters from About.com
Next: Support Buddy Walk

11 Responses to "Fat Chance: A Beauty Pageant For The Fabulous and Thick"
Leave a Reply
-