Yesterday, I wrote about my miserable experience at 24 Hour Fitness with the other patrons of my gym. I made the decision to find a home gym that I could work with. Mike and I used to have a home gym when we lived in the suburbs and had 3500 square feet at our disposal, but now, we live in the city with only 873 square feet and a six-foot basement. We decided to go shopping for a home gym that would work for us so that I didn't have to clean up the disgusting bodily fluids of strangers at the gym.
My sister and her husband have a "flex" machine that he loves, but she hates, so I was attracted to the Bowflex machines. There are two problems with those machines, however, they are EXPENSIVE and they stand seven feet tall, which makes them useless for us because they wouldn't fit in our basement. Neither Mike nor I wanted to make a weight machine the focus of our small house. We already have my bike trainer set up in the living room. Somehow we can live with that, but adding a Bowflex would overpower our decor.
I was attracted to the Bowflex because it wouldn't weigh a ton of weight, I could fold it up small and it had a bunch of exercises that I could do. It didn't fit. In fact, we were hard pressed to find any machine that would fit in our basement because many of them have the lat pulldown so high that it's impossible for it to fit under the floor joists in our basement.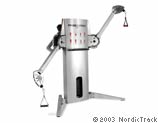 We did find one machine from Nordictrack (FreeMotion) that would have easily fit in our basement, but we weren't willing to spend $2500 on a home gym. At that rate, we could pay for over four years of club dues for both of us before we would make up the money spent on that one machine. There was no way we were going to spend that kind of money on a home gym, especially one that heavy.
After looking at all the home gyms, we came to the conclusion that we would do better to buy a weight bench and some free weights. I am the kind of person that wants the world, so I wanted a weight bench that would have a wide variety of exercises (leg extension, leg curl, preacher curl, lat pulldown and something for the pecs). I had seen a beat up bench that could do all those things at the local thrift store. I wanted a brand new one. I was willing to give up the lat pulldown because of the height of our basement, but I wanted everything else.
Guess what, I found it!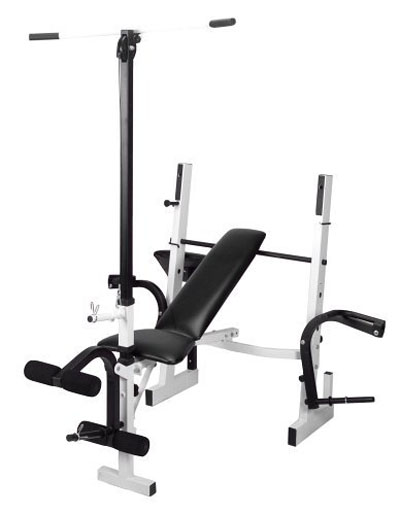 When I saw this bench at Play It Again Sports, I immediately took out my measuring tape and took the stats. Mike and I had been to over eight stores in the Salt Lake Valley and Mike had given up and gone home. I was still searching and when the height of the bench (including the lat tower) came in at six foot-one inch, I knew I had found the weight bench for us. The foot print is less than 3 foot by 4 foot, but it actually takes up more space (about 5 foot by 5 1/2 foot). I knew when I reeled in my tape measure, it would fit in our basement as long as I positioned the lat tower between the floor joists.
You can't see it, but this bench also has a preacher curl attachment that fits where the lat tower is currently attached. It also has leg extension, leg curl and a pec deck (those curved handles on the side). I could build my pecs without doing a bench press alone, so I really liked this machine. It cost us $110, plus 80 bucks for a beginner set of weights. In a month, I will give you another update on my home weight training. For now, I'm just excited to go downstairs and workout. Let's see if I get the same results as the gym.
---
I am completely shocked that Amazon sells the weight bench that I bought, but there it is: the Apex Adjustable Weight Bench. At Amazon, it costs $129, which is twenty bucks more than I paid at my local store and that doesn't count shipping, yet it's there. You'll probably have better luck at a local sporting goods store, however. I'm still reeling from the fact that I got a complete home gym for under 200 bucks. That's four months of gym membership dues. I will have paid for it four months after I quit 24 Hour Fitness. Amazing!
Previous: The Deification of Food
Next: Adult Organized Sports

4 Responses to "Home Gym For The Square-Footage Impaired"
Leave a Reply
-