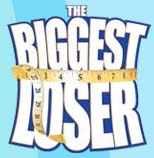 This week on the Biggest Loser, Mark decided to take it up a notch. He had two weeks of big losses in a row and he was feeling ready to give it his all, so he added an extra hour of exercise a day to his routine. This is in addition to the four hours a day that the rest of his team is doing. He asked his trainer, Jillian, if she was proud of him because he was willing to do five hours a day. She was more worried about him than proud. She was worried that his body might go into shock, slowing his progress instead of speeding it up.
When he got on the scale at the end of the week, he showed a four pound loss. You could see the disappointment on his face. "Four pounds, that's it?!" After losing seventeen pounds two weeks ago and ten pounds the previous week, he was crushed at losing four pounds.
…insert record scratch noise here…
Four pounds in a week is a FANTASTIC loss, especially since he had such big losses the previous two weeks. Normal people have an adjustment period after losing so much weight. I have to give snaps to Jillian. She told Mark that if he was going to exercise that much, he needed to eat more to compensate. She must have gotten the balance exactly right for him to still have a loss at the scale.
I am continually amazed at how much weight each of these people are losing. Andrea said it perfectly:
"In the real world, a two pound loss is great, but here it just doesn't cut it."
When you watch this show, and find a loss of a half a pound on the scale for yourself, don't get discouraged. When you find yourself lying in bed, thinking about whether you should get up on time to exercise, remember Mark busting his butt on the treadmill for five hours a day. I think I can get up and do forty minutes.
Previous: The Brazilian Pills = Danger
Next: Swimming Can Kick Your Butt

5 Responses to "The Biggest Loser: That's it?!"
Leave a Reply
-