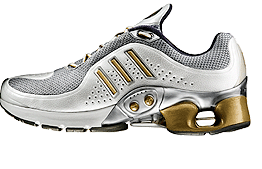 When I heard that Adidas was making a tennis shoe with a built-in microprocessor, I got really excited. At first, I thought it could be something to gauge my mileage and speed. Maybe it could even monitor my heart rate. It could at least tell me if I'm running too slow to finish the race on time, right?
No…
No, that would make too much sense. Instead, the microprocessor automatically senses the environment and whether you are running and walking and adjusts the springiness of the shoe to match it. I'm feeling a rant coming on, but I'll just say that I don't need that. The running shoes that I have right now are perfectly springy without a microprocessor.
Since the Engadget review didn't make it clear, I had to sit through the tiresome animation at the Adidas 1 website to make sure that it didn't actually have some useful features like pace monitor or GPS tracker. A stopwatch might have been helpful too, but it doesn't seem to have even that.
At the cost of $250 a pair, you could buy a cool pair of running shoes and a GPS tracker. That's the computer/shoe combination that I would recommend.
Previous: Mini-Meals: The Two-Edged Sword
Next: Get Fit Fast And Make It Last

Leave a Reply
-